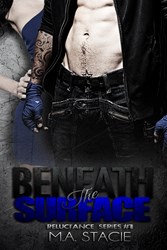 Dallas, TX (PRWEB) August 27, 2013
Kyran Reese is as Alpha as they come. A handsome, successful CEO who lets off steam in his spare time as a bareknuckle boxer, Kyran is used to getting what he wants, when he wants it – and he wouldn't have it any other way.
But when his brother's assistant, Dale Porter, enters the picture amidst increasingly tense family dynamics, his cool demeanor and sense of control just might be knocked out. But that doesn't mean he won't fight the prospect of love as forcefully as he does his opponents in the ring.
With enough ringside action and steamy sex scenes to keep even the most gushy romance averse readers entertained, Beneath the Surface is a page-turning exploration of what happens when a brokenhearted woman hooks up with—and falls hard for—the bad boy and an exploration of what's really beneath a hard-bodied, tattooed exterior.
"Beneath the Surface is, as the name suggests, more than just a hot read," says Stacie. "It's certainly sexy and dripping with tension, but beyond that, there's a juicy plot that keeps you guessing."
            A staunch advocate for realistic, thought-provoking love stories that include happy endings, Stacie now has availability for select interview opportunities around the release of Beneath the Surface to talk about:

    Romance and realism: does writing and reading romance skew your expectations of the opposite sex or stoke the flame of passion in your relationships?
    How David Beckham carrying the Olympic torch down the Thamas sparked her imagination and led to her writing Beneath The Surface
    Finding empowerment and liberation through reading – and writing – sexy novels
A fun, frothy, action-packed addition to the erotic romance market, Beneath the Surface is already causing early reviewers to swoon, sigh, and lust after the first chapter in Kyran and Dale's unlikely, passionate love story.
About the Author:
A native of Manchester, England, M.A. Stacie is the author of five romance novels, and never without a book or her e-reader. A voracious reader with a longstanding love for sexy, angst-ridden novels, she adores getting lost in new worlds. She describes herself as one huge contradiction, and though not the most conventional of hobbies, she counts getting tattoos as one of hers. Running keeps her sane, along with knitting and listening to loud music.
Beneath the Surface is currently widely available via all major online retailers and select brick-and-mortar booksellers as of August 29, 2013.
Website: http://www.mastacie.com/

Twitter: @MAStacie

Facebook: https://www.facebook.com/MAStacie
About the Publisher:
The Writer's Coffee Shop Publishing (TWCS) House is an independent publisher based in New South Wales, Australia. They gained a great deal of attention with Fifty Shades of Grey, the international literary sensation they released in June 2011 and is now represented by Random House.
Launched in October 2010 with the vision of working alongside talented authors while providing quality e-books to the growing marketplace, TWCS publishes a wide rage of fiction titles and is sure to have something for any reading appetite.
Website: http://ph.thewriterscoffeeshop.com/

Twitter: @twcs_pubhouse

Facebook: https://www.facebook.com/pages/TWCS-Publishing-House/119328354791583